In the last couple of days, Asus has cut and run and Nvidia has blamed it for poor sales of its Tegra processors, Is it time for Microsoft to abandon the Windows RT experiment? Not on your nelly.
Despite taking a $900m hit (about £591m, AU$981m) on the Surface RT slate, Microsoft has underlined its commitment to Windows RT and the ARM processing architecture required to run the operating system.
In a statement on Friday, a Microsoft spokesperson told CNET: "Windows remains committed to the ARM platform.
"We are looking forward to new ARM-based Windows devices that will launch later this year," the statement continued, hinting at an updated version of the underachieving Microsoft Surface RT tablet.
Write-off
The statement came on the same day Asus revealed it would no longer built devices for the ARM-based OS and will instead focus on creating full Windows 8 devices running on Intel processors.
The company's CEO Jonny Shen said Asus shared an "industry sentiment that Windows RT had not been successful."
Nvidia's CEO also put the boot in with Jen-Hsun Huang admitting the recent failures of Windows RT, which uses its Tegra chips to provide the processing power, would make a positive return unlikely.
He said: "Because this particular platform just didn't do as well as we or frankly anybody in the industry had hoped, we don't expect as much returns on that investment as we originally hoped."
Huang did admit that Nvidia is hard at work on the Surface RT sequel, so will will get at least one more tablet running the Windows RT OS, but after that who knows?
With the PC industry encountering more struggles than at any time in recent history, can it afford to carry a passenger like Windows RT? Let us know in the comments section below.
Posted in Computing, Software, WirelessComments Off
Posted on 27 June 2013. Tags: across-the-pond, british-english, computing, foreseeable, microsoft, operating, pack-on-windows, preview, rename-the-msu, windows-store
---
It seems a number of UK users are running into a brick wall when attempting to install the free preview version of Windows 8.1 that was released yesterday.
The problem lies in British English falling outside of the 13 languages supported by the release, which causes the message "The update is not applicable to your computer" to appear during installation.
According to a post by a Microsoft representative on the company's forum, UK customers will be able to install the preview using an ISO preview image once it becomes available in the near future.
However, if you're unprepared to wait, there are two workarounds. The first is to change the operating system's language from British English to US English in the control panel before giving the machine a restart and trying the install again. Of course, taking this route means you'll have to put up with our friends across the pond's way of spelling for the foreseeable future.
If you're unprepared to wait (and feeling a little courageous), a second, potential workaround has been offered by a Microsoft community member, which should allow you to install the preview without changing the operating system's language. We haven't had chance to test this ourselves, so apply it at your own risk.
Place and rename the MSU file in an easily accessible place, e.g. C:8previewpreview.msu or whatever
Open command prompt in administrator mode.
Type: Expand –F:* c:8previewpreview.msu C:8preview
Type: DISM.exe /Online /Add-Package /PackagePath:c:8previewWindows8-RT-KB2849636-x64.cab
Windows RT
The situation is a little different for Windows RT users, who won't be able to install from an ISO. However, Microsoft has advised users against changing the base language on their devices just to install the Windows RT 8.1 Preview as there's no way to restore it afterwards.
It's also asked users not to install the preview if they've installed a language pack on Windows RT, adding that a fix will be available soon courtesy of a Windows Store update.
Again, if you're the sort that prefers to take caution and sling it headlong into the wind, the same Microsoft community member has suggested that Windows RT users replace the "x64.cab" on the end of step four found above with "-arm.cab".
Microsoft officially revealed the preview of Windows 8.1 during the Build developers' conference opening keynote on Wednesday. Among the latest version's improvements are a return of the start button and a 'boot to desktop' option.
Will you be grabbing the Windows 8.1 preview? Find out what's in store:
FutTv : Lv3Nz00E27o3K
Posted in Computing, Hardware, Software, WirelessComments Off
Posted on 19 June 2013. Tags: appears-on-ipad, apple, computing, corner-swipe, down-the-line, especially-more, final, iphone, operating, parallax-effect, phone, pseudonym, russian
---
An intrepid iOS 7 user has unlocked a few little secrets the beta version of the operating system, pointing to some new features that may be coming in the final version later this year.
Hamza Snood tweeted his findings, which include new gesture and multitasking functions that Apple has clearly been playing around with.
We're most interested by the feature that offers the ability to choose new types of gesture for using the iPhone. As the posted video shows, these include "Edge Swipe", "Corner Swipe" and "Press-and-Hold".
Another handy new feature allows you to put folders within folder. There's no guarantee that these will be in the final version of iOS 7, but it looks like they'll be surfacing down the line.
YouTube : www.youtube.com/watch?v=9DP7q9e3K68

New ways to play
But the iOS 7 news doesn't stop there. A video showing iOS 7 running on an iPad has appeared online, and while it's currently still in its beta state, it's enough to give us a solid idea of what the new OS looks like on the larger tablet.
The video was posted by a Russian YouTuber who goes by the pseudonym of Rozetked. As you might expect, it looks pretty much the same as on the phone, but, well, bigger.
Yesterday we were treated to some screen grabs of iOS 7 running on the iPad, but we have to say that it looks a lot better in motion. We can imagine that the parallax effect is especially more awesome on the tablet.
YouTube : www.youtube.com/watch?v=CY5N_rWx1Z4
Posted in Computing, Mobile Phones, SoftwareComments Off
Posted on 07 March 2013. Tags: been-as-willing, computing, develop-smaller, discounts, gone-as-planned, operating, price, retail-movement, softies, street, windows
---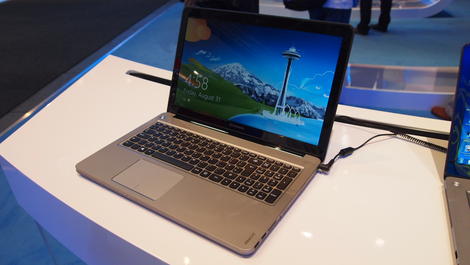 Apparently not pleased with sales of its existing Windows 8 laptops, Microsoft is reportedly offering discounts on the operating system to original equipment manufacturers (OEM).
The idea behind the discounts is to create more demand and incentive for OEMs to develop smaller touchscreen devices featuring Windows 8 for later this year.
Previously, a bundle of Windows 8 plus Office was being sold by Microsoft for $120 (UK£80, AU$116), but the discounts that began in February, according to a Wall Street Journal source, saw that price slashed to just $30 (UK£20, AU$19) for devices 10.8 inches or smaller.
Devices larger than 10.8-inches got a similar $30 discount, though just for Windows 8 by itself.
Windows pains
Sources speaking with the Journal revealed the price slashes, though Microsoft itself evaded a straight answer when questioned.
"As we've said before, Windows 8 was built to scale across all sizes of PCs and tablets – large and small," a spokesperson told the Journal.
"We continue to work with partners to ensure that Windows is available across a diverse range of devices."
In the past, Microsoft hasn't been as willing to shift its strategy by lowering the licensing fees for equipment makers, but the rise of Google's cheaper Chromebooks and Android tablets may have caused the Softies to adjust their game plan.
Microsoft's new focus appears to be on reaching the smaller touchscreen market just as the back-to-school season starts, and more consumer-friendly pricing would certainly help Windows 8′s sales at that crucial time of year.
The desire for Microsoft's own Surface tablets weren't all that impressive the last time we checked, indicating the company's shift away from traditional PCs hasn't gone as planned.
Perhaps some of those slow sales could be attributed to how hard it's been to get a hold of a Surface Pro. However, the lack of retail movement has been ongoing since the Surface RT launched last year.
Microsoft may be attempting to rejigger its consumer strategy with this discount, though we won't know for sure until we start seeing more Windows 8 devices hit the market.
Posted in Computing, Mobile Phones, Software, WirelessComments Off
Posted on 05 March 2013. Tags: announcement, both-the-ios, browser, chrome, computing, crashes-on-ios, google chrome, operating, over-the-coming, received-faster, search, security, windows
---
Google released updates for its Chrome browser across Windows, Linux, Android and iOS on Monday, adding minor features and tweaks to all four operating systems.
Chrome iPhone and iPad were updated to version 25, adding "long press" on the back button, which lets users view multiple recently visited pages, plus the ability to share web pages via messages, Google said in an announcement.
For Android, Chrome received faster and more responsive scrolling. What's more, Google reported in a blog post that it had improved the browser's performance benchmark on Android by 25 percent, so "interactions within web pages in the browser are snappier."
On Windows and Linux, the main, "stable" Chrome release just got bumped to version 25.0.1364.152, an incremental update that provides "security and stability improvements" and bug fixes, according to yet another announcement.
Google search improving
Google also mentioned today that an update to Google search within Chrome for iPhone and iPad will roll out "over the coming days."
With the new search update, the omnibox at the top of the screen will display the search term instead of the search results URL, and it will be easier to "refine your search queries and view more results on the search results page."
Google added that it's "continuing to add plenty of under-the-hood stability, security improvements and bug fixes" to both the iOS and Android versions of the Chrome app.
Crashes on iOS?
Despite the snappy updates, several users reported that the iOS version was crashing after Chrome 25 was installed. Some noted that their devices were jailbroken.
TechRadar tested out the Chrome 25 update for iOS on an iPhone 4S running iOS 6.1.2, a jailbroken iPhone 4 with iOS 5.1.1, and an iPad mini on iOS 6.1. The update seemed to work fine on all three devices.
We reached out to Google to determine whether the company was aware of any issues with the Chrome for iOS update, and we'll update this story if and when the company offers a response.
Posted in Computing, Mobile Phones, Security, WirelessComments Off